Not Much Goin On
Well, I could say that a lot has been going on since New Years...but it hasnt....I've been working more but there isnt a suprise there. However I have had today and yesterday off. I also have Saturday off.
Jme
does too so that means we can spend some more time together. Monday we went out to Hueys to karaoke and we had fun. My voice was a little hoarse after the night from yelling and screaming and clapping and everything. I had more fun than usual for some reason. Ummmm......this next week I wont open the restaurant at all. Ill be working midshifts for 2 days and the other 3 days I close. Fun Fun there. That means I am working while the guys are out karaoking. I dont like that at all because besides sitting at home and playing online, going to karaoke is all I do for fun. And even though I dont sing....I do have fun.
Anyways, the other day, Jme put
Neo
's old Harley Davidson Bandana on
Stitch
. It doesnt fit Neo anymore. He had it when he was a puppy. Jme took it off Stitch and was trying to fix it to where it would fit him more and Stitch popped his head back in it. He didnt want it taken off. He liked it. So everytime we took it off, Stitch would put his head back in it. Jme finally had to stand up so that Stitch couldnt reach it and even then, Stitch was jumping tryin to get into it. So needless to say...its been on him since...lol. Its been a couple days now and nothing bad has happened. So maybe he'll keep it on for a while...at least until I get some pictures of it. He looks so adorable in it. :)
The role of film I took pictures on for New Years finally got finished up Monday night at karaoke. I have to drop it off to be developed sometime tonight while Jme and
Dustin
are at the fire department for training. Volunteer Fire Classes are fixing to start this year. Jme being an instructor and Dustin going through it for the first time means that I will be home alone more :(. I'd go this time, but I had a bad experience last year at Hernando FD so I am not going this year. I went the first year Jme and I were together but it was at a different Fire Dept than Hernando.
Anyways, I made some more contact tables for MySpace profiles. They have my myspace help site on them. To view them go to my myspace help site (
www.myspace.com/fefehelp
) and then in the right hand side it says "Custom Contact Tables". That will have alink to the contact tables and the ones that have my help's site on them are the ones I have made. Now....there is one thing. You have to be a friend of my myspace helpsite to view them...thats one stipulation I put on them. Dont want just anyone stealing them ya know. :)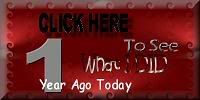 This is set to 1 Year Ago Yesterday since I didnt do one for today this time last year. :) Enjoy.